Radar Detectors for use in Australia > RECOMMENDED - NEW Escort Redline 360c - 100% Undetectable, Extreme Range, Bluetooth, GPS Camera Database - "AU/NZ"

RECOMMENDED - NEW Escort Redline 360c - 100% Undetectable, Extreme Range, Bluetooth, GPS Camera Database - "AU/NZ"



| | |
| --- | --- |
| Orig. Price: | $1,899.00 |
| Sale Price: | $1,849.00 |
| Availability: | Out-Of-Stock |
| Prod. Code: | Redline360c |
NOW AVAILABLE!
The ALL-NEW Escort Redline 360c doesn't raise the bar. It shuts it down. Setting a new technical standard for driver alert systems. 2X the range. 360° directional awareness. 100% stealth. Get ready to REDefine the road.
The Redline 360c is not for everyone, only those who expect the best. Never settling, never cutting corners. Delivering the best of the best for the people who expect high-end performance.


EXTREME RANGE
Relax, with extreme range (2X longer range compared to Redline EX), you'll know exactly what's ahead, behind and all around you.
ALWAYS TRUE. NEVER FALSE
Exceptional accuracy against false alerts (AI-assisted filtering) means you'll know what's a real threat and what's not*
* Based on leveraging features such as GPS AutoLearn, updatable IVT Filter, and the connected network of ESCORT drivers.
INCREASE YOUR ROAD IQ
A powerful processor (25X more vs. Redline EX) provides rapid response times and alerts faster than ever before.
SEE, BUT DON'T BE SEEN
Advanced stealth (invisible to all RDD – Radar Detector Detectors) technology ensures you stay completely anonymous.
WELCOME TO THE RED ZONE
True 360° directional awareness and location accuracy within 2.5m give you an all-around protective shield.
REDY WHEN YOU ARE
A driver network with over 100 million real-time shared community alerts per year ensures maximum protection.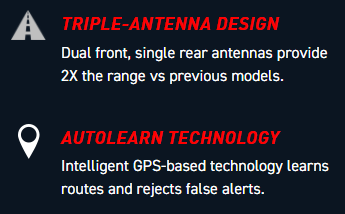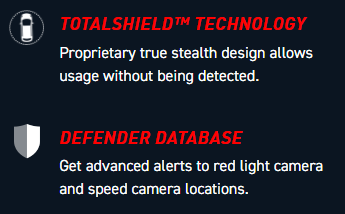 25X MORE PROCESSING POWER
Blackfin DSP chip provides 25X more processing power.
2.5 METERS
TELIT GPS enables location accuracy within 2.5 meters.
100% STEALTH
Patented technology allows for complete stealth.
ESCORT Live App
Join the community of real drivers—an alliance of enthusiasts. Over 100 million real-time alerts shared and received every year. Built in Bluetooth® technology the RedLine 360c gives you access to ESCORT's award-winning app, ESCORT Live. Enjoy the exclusive real-time ticket-protection network, which warns you of upcoming alerts received and reported by other users in the area, and gives you access to local speed limit data for over-speed alerts.
Speed traps and camera locations are everywhere! We've addressed the increasing number of safety cameras installed throughout Australia by pre-loading the Redline 360c with our exclusive DEFENDER® Database of active red light and speed camera locations. As you approach these locations, the Redline 360c will alert you in advance, you can even add your own hot spots using our exclusive Mark Location feature.

Weekly updates are available via the Escort website to keep you up-to-date with the latest changes. Simply go online to download the most up to date locations.

Compatible with most Windows and Mac computers.
What's In The Box:
---
© Copyright DGC 2023
ABN: 87 528 875 816