| | |
| --- | --- |
| Price: | $199.00 |
| Availability: | In Stock |
| Prod. Code: | SPOTTrace |
SPOT Trace is the theft-alert tracking device powered by 100% satellite technology. The tiny, lightweight device allows you to track anything, anytime and anywhere – from your boat to your car, jet ski or motorbike. When the SPOT Trace detects movement it will automatically notify you of its GPS coordinates via SMS or email, so you know exactly where your valuable assets are.

SPOT Trace Features
• Receive text or email messages when movement is detected.
• Monitor assets in near real time using Google Maps™.
• Satellite technology tracks beyond the reach of normal mobile
network coverage.
• Select from 2.5 through to 60 minute tracking intervals.
• Compact and easy to install.
• Long battery life and plug in power options.
SPOT Trace Specifications
• Size: 51.3 x 68.3 x 21.4 mm
• Weight: 87.9g
• Operating Temp: -30c to 60c
• Operating temperature: -20 C to +60 C
• Operating altitude: -100m to +6500m
• Humidity rated: MIL-STD-810F, Method 507.3, 95% to 100%
cond.
• Vibration rated: Per SAE J1455
• Waterproof rated: IPX7 (1m for up to 30 minutes).
• Battery type:
- 4AAA lithium batteries,
- Line Power with a 5v USB connection
• Mounting Options:
- Reversable mounting brackets
- Industrial strength double sided tape
- Adhesive grip
- Adhesive hook and loop tape
How does SPOT Trace work?
SPOT Trace uses satellites to send tracking points and messages, so its signal needs a clear path to the sky. The signal will go through glass and fiberglass but cannot pass through metal or wood.
The SPOT Trace will send a signal to the satellite with its GPS coordinates at intervals determined by you. When movement is detected, the SPOT Trace will send you an email or SMS notification with its GPS coordinates. You can use the SPOT web based user console to track your asset in near real time using Google Maps®
How SPOT Trace works:
Notifications:
• Tracking
View your assets GPS coordinates using the online user console.
• Movement Alerts
Receive a notification when SPOT's vibration sensor detects your
asset has new movement.
• Dock Mode
Configure SPOT Trace to track an asset that is primarily stored
on the water.
• Power Off Message
Receive a notification of SPOT Trace is powered off.
• Low Battery Message
Receive notification when SPOT Trace's batteries are low.
• Status Message
Receive a daily alert to let you know your asset is secure
Web Portal
SPOT Trace Web Portal: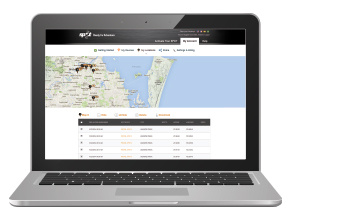 Your SPOT Trace subscription comes with a web based user console and tracking page. As soon as you receive a movement notification from the SPOT Trace via email or SMS you can quickly check the whereabouts of your SPOT Trace online.