So how does the TTC Tracker work?
So lets say your away on a trip or holiday somewhere and you want to check that your asset is at home in the garage or where you left it ! Simply get your Smartphone out, open the QuikTrak Pro App and press the position button.
The QuikTrak Pro App will send your asset's device a command asking for it's current location. The QuikTrak Pro App will then show you a map and an address where the asset is currently located.
If the asset is moving, it will even show you the speed and direction.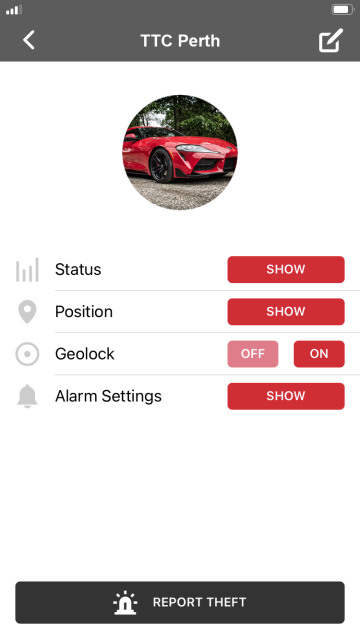 The TTC Tracker is more than just Tracking
Your TTC Tracker GPS tracking system is also able to send
you notifications about your assets.

You can turn these alerts on and off through the QuikTrak Pro
smartphone app at any time.

You can even have your TTC Tracker inform you that your vehicles
security alarm is sounding.

Geolock

Alerts you if your vehicle has moved from where you parked it.​

Ignition Off

Notifies you if your vehicle has had its ignition is turned off

Ignition On
Notifies you if your vehicle has had its

ignition is turned on

Impact / Crash

Alerts you if your vehicle has been involved in an accident​

Power Disconnection

Notifies you if your vehicle has had its battery disconnected

Tilt / Shock

Notifies you if your vehicle is hit or tilted (i.e having wheels stolen)
SERVICE PLANS
QProtect

Loc8

Track

Watch
PRICING

$49 /Year

$8.80 /Month
or
$96 /Year
$19 /Month
or
$228 /Year
$33 /Month
or
$360 /Year
UPDATE INTERVAL

18 h

60 min

or with alarm

10-60 sec*
10-60 sec*
INFORMATION ON DEMAND - Between scheduled updates

**

**

N/A
N/A
SMART PHONE APP ACCESS
ONLINE SUPPORT VIA EMAIL AND TICKETING SYSTEM
THEFT RECOVERY REPORTING AND ASSISTANCE
ALERT NOTIFICATIONS***

In-app

In-app
In-app/email
In-app/email
/call
• Low battery
• Power disconnection
• Alarm input
• Geolock
• Impact/crash
• Enter/exit geofence
• Speeding - street and preset
• Ignition/ACC on or off
• Harsh acceleration/braking
0
0
• Auxilary input/s
• Tilt/shock
• Customised integration
OFFLINE ALERT - No data in 24, 48 or 72 hours
ADDITONAL OPTIONS - Driver ID or Temperature***
REMOTE IMMOBILISATION/TRIGGER***
0
0
0
0
WEBSITE ACCESS
HISTORICAL REPORTING:
• Route playback
• Activity and usage
• Trip
• Alarms/alerts
• Geofencing
• Overview
• Runtime and ignition
• Idle logs
• Input/pto reporting***
• Obdii records***
• Servicing logs***
• Driver records***
• IVMS records***
SERVICE INTERVAL REMINDERS: - Date, duration, mileage or engine hours
• Asset servicing
• Tyre rotations/replacement
• Registration renewal
• Insurance renewal
• Customised reminders
COMPLIANCE REPORTING:
• Fringe benefit tax
• Offroad usage

* Updates based on asset usage and direction change
** Positional, status and alarms utilise a prepaid credit solution. Review the product guide for further information
*** Products capabilities and features vary based on the hardware, fitment options and additional components.

What happens if my vehicle is stolen?
The first thing you need to do is call the local Police and report the asset as stolen. The Police will issue an event number.

Then ring The Tracking Centre control room, the operator will activate your asset to Live Tracking FREE of charge and will then liaise with the local Police on your behalf giving them up to date movements and locations of your stolen asset.

1300 305 906

This creates a better chance for the recovery of your asset and the best part is, this service is absolutely FREE to The Tracking Centre customers.