Dash Cams > Thinkware X550 1080P HD Dash Cam - 16GB

Thinkware X550 1080P HD Dash Cam - 16GB



| | |
| --- | --- |
| Price: | $499.00 |
| Availability: | Out-Of-Stock |
| Prod. Code: | X55016 |
SUPER NIGHT VISION

Capturing video in extreme low-light conditions such as dimly lit parking lots and streets often results in recording of poor quality video or in many cases, complete darkness.
The Super Night Vision, proprietary night vision video processing technology by Thinkware dash cam, achieves impressive high-sensitivity performance increasing the brightness levels up to 1000% during nighttime with reduced noise in low-light conditions by taking advantage of new image signal processing (ISP) technology.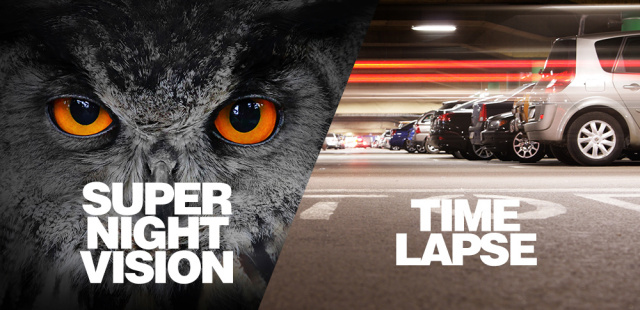 Parking Mode feature allows you to leave your car and be sure the dash cam will provide surveillance for the vehicle while you are away. The new Time Lapse feature takes parking mode a step further, providing improved coverage by recording for extended period of time compared to existing parking mode.
Recording at 1 frame per second, the time lapse feature enables the dash cam to record parking mode videos 16 times longer than the regular parking mode by reducing video file size.
This feature also allows video playback at 15x speed, reducing viewing time to scan through many hours of video footage.

SAFE ON THE ROAD
The Thinkware Dash Cam X550 is equipped with the Road Safety Warning System that provides audio and visual alerts for Lane Departure (LDWS), Front Collision (FCWS) and Front Vehicle Departure (FVDW). It detects road markings and gives voice warnings to the drivers if the vehicle begins to stray from its lane or when it is at risk of an imminent crash.
Such advanced technology that once could only be seen in the best luxury sedans is now available in our dash cams to provide convenience and safety while aiding drivers on the road:
Front Vehicle Departure Warning (FVDW)

Inform drivers when vehicle ahead is moving off

Lane Departure Warning System (LDWS)

Alert drivers when vehicle strays out of lane

Front Collision Warning System (FCWS)

Alert drivers when approaching too

closely to the vehicle ahead to avoid collision
Exclusive safety feature from THINKWARE - The Safety Camera Alert powers THINKWARE Dash Cam to be on continuous alert for photo enforcement locations on your driving routes while recording high quality videos at the same time.
THINKWARE Dash Cam provides active warning for these 5 types of road safety cameras.
Red Light
Camera Alert
Speed Camera
Alert
Combined Red Light &
Speed Camera Alert
Average Speed
Zone Alert
Mobile Speed
Zone Alert
RED LIGHT / SPEED CAMERA / RED LIGHT & SPEED CAMERA ALERT

With the built-in GPS and safety camera location database, Thinkware Dash Cam actively monitors the vehicle location to inform you of approaching traffic enforcement cameras such as red light cameras and speed cameras along your way.

Voice guidance together with visual alert** on the dash cam screen will alert drivers of any approaching traffic enforcement cameras along the route. Thinkware Dash Cam employs a two-step warning system where the first warning will provide distance remaining from your current location to the camera location and the second warning will alert you when you reached the exact traffic camera location.

Cultivate safe driving habits with Thinkware Dash Cam. Start from driving at the correct speed.

* only available on selected models

** only available on selected models with LCD screen
AVERAGE SPEED / MOBILE SPEED ZONE ALERT
Drive with confidence knowing your exact speed and the locations of traffic control zones in real-time. Let Thinkware Dash Cam remind you the locations of average speed cameras and mobile speed camera zones while you remain focused on driving.
| | |
| --- | --- |
| | |
| Voice and visual alerts are activated when entering the speed enforcement camera zones. The dash cam will continuously guide you along the speed controlled stretch of road, thereby reducing the danger of speeding. | What's more, Thinkware Dash Cam is designed to recognize the direction of your route and automatically disable warning for irrelevant speed and red light cameras in the opposite direction so that you are not distracted by unnecessary or false alerts. |
Know where the traffic enforcement cameras are. Safe driving starts with Thinkware Dash Cam.
* The video records both the location and speed information of the drive.
The recorded footage can be accessed via the PC viewer where you can easily review and replay your driving routes on the map.
* The Safety Camera Alert database in Thinkware Dash Cams contains a comprehensive coverage of safety cameras across regions including
North America (approximately 10,000 camera locations across the region) and the United Kingdom (approximately 18,000 locations).
The safety camera database is constantly updated to ensure that it is accurate and up-to-date.
* Some discrepancies may exist due to addition, removal and/or relocation of the traffic enforcement cameras so be advised that
all motorists should observe safe driving practices at all times.
RECORD CRYSTAL CLEAR, FULL HD FRONT/REAR IMAGES
With the 1920x1080p Full HD front/rear camera, you can accurately record movements of an object approaching the camera. Use the THINKWARE DASH CAM to record keepsake memories while taking a drive with your family and loved ones.
Full HD recording in 30 stable frames allows you to accurately capture car accident, car vandalism, or hit and run accident during parking. It can also be used as an Action Cam to record the thrills and spills of your action sport, such as race driving.
* THINKWARE DASH CAM™ X550's Full HD rear camera is sold separately.
BEST IMAGE CORRECTION TECHNOLOGY
Your car is subject to diverse conditions and environments, whether driving at night, under strong direct sunlight, or entering and exiting a tunnel. The X550 has various image correction processes such as WDR, Super Night Vision, Smart AE and many other functions that are optimized for the product, leaving you with a clear and accurate footage under all circumstances.
MOUNTED 2.7 INCH CLEAR DISPLAY
On the LCD screen of the Dash Cam, you can check real-time and recorded videos, change the settings and format your memory card. Using the 2.7 inch clear display, you no longer have to connect to a PC, MAC or smart device; you can simply perform these tasks in your car. X550 display has optimal specifications for displaying clear and sharp images.
2.4 MILLION PIXEL HIGH RESOLUTION IMAGE SENSOR
The 2.4 million pixel high resolution SONY Exmor CMOS image sensor can greatly improve the quality of night time images as well as day time images. Now, everything in front of X550 becomes brighter and clearer.
SEE MORE WITH A 140˚ WIDE ANGLE VIEW
The highly precise optical glass lens records all surrounding images around your car, without missing a movement, while minimizing distortion. The 140 degree wide angle lens can record both front and side situations of the car.
STRONG PROCESSOR, AMBARELLA A7
X550 utilizes the best CPU with high specification applied in sports cam for its smart performance. It minimizes power consumption while providing optimal performance. X550 is a globally competitive Dash Cam that can reliably support major functions such as Front/Rear Full HD Ultra-high Quality Recording, Dual Save, WDR, Super Night Vision, Smart AE and others.
VIVID DRIVING INFORMATION BASED ON THE BUILT-IN GPS
Using the GPS data in X550, it can precisely pinpoint the vehicle's driving speed, location and routes on the map. The GPS helps you to accurately assess the status of the accident by providing you with the vehicle speed, the direction of collision and the severity of impact. The video recording feature not only store driving footages, you can also use them to track your holiday travel routes with family and friends. When your teenagers drive your car, they can review the routes and the driving data to improve on their driving techniques as well.
* X550 comes with a built-in GPS.
THE NEW STANDARD FOR DASH CAM SELECTION: DUAL SAVE
This technology is specially designed to save recorded footage in both Micro SD and NAND Flash Memory when a certain level of impact is detected. This is particularly useful if the Micro SD card is removed or damaged due to the impact of a collision. With the Dual Save Technology that also saves footage in the NAND Flash Memory, you do not have to worry about it getting lost or damaged. You can immediately check the video saved in the NAND Flash Memory on the X550 Clear Display or copy it to the Micro SD Card and check it on the PC or MAC viewer.
* Dual Save Technology is activated when a certain level of impact is detected as long as it is connected to a power supply (The impact detection threshold can be adjusted according to user preference).
| | |
| --- | --- |
| The Active Impact Monitoring System utilizes a 3-axis G-Sensor to continuously monitor any impact to the vehicle, ensuring that all incidents are recorded. | |
CONVENIENT VIEWER TO ACCESS VIDEOS

Videos recorded on the road can be accessed via the THINKWARE PC viewer or the THINKWARE Dashcam Mobile Viewer app. The THINKWARE PC Viewer allows you to view the recorded videos with time, speed, and location data on your PC or Mac computer. You may also use the application to configure the device, as well as access firmware upgrades.

With the THINKWARE Dashcam Mobile Viewer app, you can now view recorded footage on-the-go. The app allows you to manage your dash cam with Wi-Fi, view video real-time and download or delete videos with your smart phone.
SUPPORTS VARIOUS RECORDING MODES AND AUTO MODE SWITCHING
It supports various recording modes depending on whether the car is in driving or parking mode (continuous recording, incident recording and motion detection recording). Using the hard wiring power cable, which is directly connected to the car power system, you can automatically switch between the continuous recording mode and the parking mode without turning the power on/off.
AUTOMATIC SWITCHING BETWEEN PARKING MODE AND CONTINUOUS MODE
After the ignition is turned off, the dash cam automatically switches to parking surveillance mode. While the dash cam is in parking surveillance mode, a combination of motion detection recording and incident recording is maintained to keep watch over your vehicle. When you start the engine, the dash cam will automatically switch back to continuous recording mode.
* The optional hardwiring cable supports automatic switching to the parking mode and motion detection recording function.
EASY INSTALLATION AND USAGE
Anyone can activate and control the THINKWARE Dash Cam X550 easily with a few simple buttons and cable connection ports.
Even if you are a first time user, you will not face any problem with installation and understanding the controls.
EASY MOUNTING AND FIRM FIXING
Use the 3M tape to easily mount the Dash Cam. The rear camera can rotate up to 360 degrees and easily be installed, regardless of the vehicle model or interior items (indoor curtains, etc.)
* Advantages of the 3M tape
The camera may vibrate when using a suction cup, but when using a 3M tape, it firmly secures the camera to the screen so no vibration is generated. While a suction cup can be obstructive and block the driver's view, the 3M tape is highly discreet, providing you with an unobstructed clear view. When the car faces impact, the suction cup may move; however, 3M tape firmly attaches to the screen regardless of impact, low or high temperature. While minimizing reflections from the car window, the 3M tape allows users to firmly attach it to their desired spot.
AUTOMATIC TEMPERATURE SENSITIVE SHUTDOWN PROTECTION
Specially designed heat-discharging structure and high-temperature-blocking functions safely protect the product and its images stored under the strong sunlight. If the temperature rises and exceeds a certain level, the SELF-PROTECTION SHUTDOWN function will automatically switch off the device to protect the stored videos.
SECURE FAIL-SAFE RECORDING
Even if the power is automatically turned off, the recorded video is safely saved. If the power is turned off accidentally due to a car accident or malfunction; or if the power supply to the dash cam is blocked, you can use the FAIL-SAFE RECORDING to safely preserve the videos being recorded. Now, even if the dash cam power is turned off accidently, you can still safely view the recorded video.
RECORDING TIME
Video Quality

Full HD 30fps

Full HD + Full HD 30fps

Capacity

16 GB

124 min

62 min

32 GB

248 min

124 min

64 GB

496 min

248 min
* THINKWARE X550 supports UHS-1 microSD memory card up to 64GB
* The lifespan of microSD memory cards may vary based on user conditions. It carries a six-month warranty.

SPECIFICATIONS
Dimension




104.3 x 51.4 x 29.3 mm / 4.1 x 2.02 x 1.15 inches




Weight

111 g(Excluding microSD) / 0.24 lbs

Package

Main Dash Cam Unit, Mount with 3M tape (1ea), Car Charger, Adhesive Cable Holder (5ea), Micro SD memory card with adapter (consumable), USB Micro SD card reader, Quick Start Guide / Warranty / User Manual (stored in the Micro SD card)

Camera




2.4M Pixels, 1/2.9" (SONY CMOS Image sensor)




Display Panel




2.7" Clear Display (320x240)



Viewing Angle


Approximately 140° (diagonally)


Video


ALL Full HD (1920X1080) for front & rear view camera when connected


Memory Capacity

Micro SD Card 16GB / 32GB / 64GB UHS-I

Recording Modes

Super Night Vision / Time Lapse / Continuous Recording Mode, Incident Recording Mode, Manual Recording Mode, Parking Surveillance Recording Mode, Capturing Still Image, Audio Recording

Sensor




3-Axis Acceleration G-Sensor (3D, ±4G)




GPS

Built-in GPS (Glonass supported)

Power




Input Voltage: DC 12/24V (Max 35V), Power Cable Port x 1 (3.5pi) / Power Consumption: 5.3W (mean) - 2ch,30fp , 3.5W (mean) - 1ch,30fp / Super Capacitor



Interface

1 x Video-IN (micro USB), DC-IN, Micro SD slot

ETC




Front Security LED



*Certain features may not be supported under specific driving, car, and navigation conditions and may be subject to change through firmware update for quality assurance and safety. Recording may not be available under specific user environment and should be used for reference purposes only.
---
© Copyright DontGetCaught 2019
ABN: 87 528 875 816